The CNN Daily Mash-up is a roundup of some of the most interesting, surprising, curious, poignant or significant items to appear on CNN.com in the past 24 hours. We top it with a collection of the day's most striking photographs from around the world.
Well done, London, well done
The 2012 London Olympic Summer Games ended Sunday night in spectacular fashion, even if NBC saw fit to cut away from it in favor of a show starring a monkey.
[cnn-video url=http://cnn.com/video/?/video/sports/2012/08/12/vo-oly-finale-fireworks.cnn]
Keep looking up
Fireworks weren't the only thing worth looking at in the sky. CNN iReporter Abe Blair, a professional photographer, shot pictures of the Perseid meteor shower over Crater Lake, Oregon, for six to seven hours Sunday night. But his patience paid off with this spectacular image of meteors lighting up the sky near the Milky Way. He used a low-power lamp to light the gnarled tree in the foreground.
"This was my first time watching a meteor shower and this was the image I was hoping to capture," he says. "It was fun to watch, but a little frustrating to photograph since you're not able to know exactly when and where the meteor would pass by."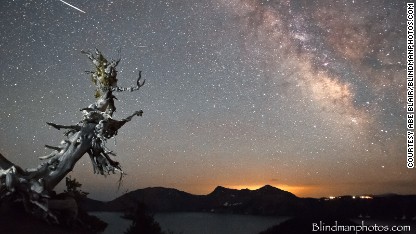 Another iReporter, Wright "Boz" Johnson, solved that problem by shooting time-lapse video of the meteor shower over Lagrange, Kentucky.
"I live on top of a big hill with lots of open land around. I often shoot time-lapses of clouds, stars, sunsets and lightning, so I was very excited to try my hand at a meteor shower," he says. "It was the best I've seen in Kentucky. I have seen showers in the desert in Utah and in Canada that will be hard to beat, but it was still very nice. I was impressed."
Check it out here.
104-year-old woman scales mountain
What do you plan to do for your 104th birthday? Alice Aho set a pretty high goal: To climb Oregon's Mount Hood. With just a little help from her family, she saw her birthday wish come true, CNN affiliate KPTV reports.
Kitteh in tha house!
[cnn-video url=http://cnn.com/video/data/2.0/video/topvideos/2012/08/10/pkg-bobcat-trapped-in-home.kvoa.html]
Educating johns
Johns School is a Brooklyn, New York, district attorney's office program that teaches the dangers and penalties of prostitution and sex trafficking. Rhonnie Jaus, the chief of the Sex Crimes Bureau, said the class attempts to sensitize and educate the men on the dangers of prostitution to both the customer (the john) and the prostitute.
You think you're having sex with an adult, and it turns out it could be something quite different. It could be a trafficked child brought from China, brought from South America, so there are many different ramifications of this crime.
On the horizon: Campaign tours, Islamic summit
Swing states remain in the presidential campaign spotlight Tuesday as certain Republican nominee Mitt Romney tours Ohio by bus and newly named running mate Paul Ryan makes appearances in Las Vegas and Denver. Meanwhile, President Barack Obama will visit Iowa (where Ryan was Monday) and Vice President Joe Biden will make stops in Virginia.
Iranian President Mahmoud Ahmadinejad will join a conference of Islamic nations in Mecca, Saudi Arabia. The only item on the agenda is the conflict in Syria, where Iran and the Saudis are supporting opposite sides.
August 14 anniversaries
1935 - President Franklin D. Roosevelt signs the Social Security Act.
1941Â - Roosevelt and British Prime Minister Winston Churchill sign the Atlantic Charter, which outlined the allies' policies and principles against fascism.
1997 - Timothy McVeigh is formally sentenced to death for the 1995 Oklahoma City bombing.
2003 - A massive blackout in the Northeast leaves millions without power in the United States and Canada.
2006 - Israel begins its withdrawal from Lebanon.
2009 - Lynnette "Squeaky" Fromme, who tried to assassinate President Gerald R. Ford in 1975, is released on parole.
August 14 birthdays
– Musician David Crosby, 71
– Comedian Steve Martin, 67
– Author Danielle Steel, 65
– Cartoonist Gary Larson, 62
– Basketball star/entrepreneur Earvin "Magic" Johnson, 53
– Actress Marcia Gay Harden, 53
– Actress Halle Berry, 46
– Actress Catherine Bell, 44