The CNN Daily Mash-up is a roundup of some of the most interesting, surprising, curious, poignant or significant items to appear on CNN.com in the past 24 hours. We top it with a collection of the day's most striking photographs from around the world.
Why we're fascinated with Jennifer Aniston
Pepper Schwartz, a sociologist at the University of Washington and the author of 16 books on sexuality and relationships, takes an educated stab at why so many women are so intensely interested in the love life of actress Jennifer Aniston, who recently became engaged again, years after Brad Pitt dumped her for Angelina Jolie.
There is an additional twist in Aniston's story that reassures us. Her failed marriage says to us that someone even more glorious than ourselves can be left, but her engagement tells us that there can be a Cinderella story at the end of the road: a mate who truly loves us, who wants to create a family, who will deliver security and unconditional love at last. Sure, it may last as long as the next headline, but we deeply hope love stays the course for her, because we want to believe that our own dreams will result in triumph over disappointment.
Come to class, get free shoes
The Detroit public school district hopes students who may not want to go to class will "just do it" on October 3. That's the day a head count will determine state and federal funding for some programs. To improve its chances, CNN affiliate WWJ reports, the district will offer a free pair of Nike shoes to every student who attends that day, thanks to a donation from Bob's Classic Kicks on Woodward Avenue.
Electric bill lights up her checkbook
Grace Edwards always knew her electric bills were way too high, but she couldn't get anyone - including the state utility regulator - to believe her. But at last the Cheshire, Connecticut, woman has prevailed, CNN affiliate CTNow reports. It turns out two street lights in her subdivision had been drawing power on Edwards' dime for 25 years. On Friday she received an apology and a check for more than $10,000 from Connecticut Light & Power.
Welcome home, troops
Here's the feel-good hit of the summer. After a successful nine-month deployment to the Persian Gulf aboard the USS Abraham Lincoln, the "Golden Falcons" helicopter squadron returned home last week to Naval Air Station North Island in San Diego. CNN iReporter Tony Perri's video of the homecoming captures the joy, relief and patriotism of the fliers and their families. "I got emotional myself at times," Perri tells CNN.
She turns a deaf ear to naysayers
5 comments about Helen Gurley Brown
The death of former Cosmopolitan editor Helen Gurley Brown brought out kudos from those who saw her as one who helped set women free in American society. However, some were not impressed with her contributions.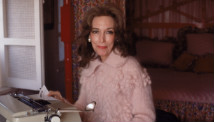 Pixiedust2: A trailblazer – Women should take control in all aspects of their lives. Money, sex – everything! She encouraged that aspect! Oh, and when I read the mag growing up it gave me another tidbit – beauty can be used against men because they are suckers and easily manipulated by sex. Good tip!

middleoftheroad1052: For women everywhere, her passing is a moment to pause and say THANK YOU HELEN. Thank you for leading the way for so many of us. Thank you for being so outspoken when speaking up was not a ladylike thing to do. Young women today don't realize what a debt of gratitude they owe Helen Gurley Brown!

Leigh2: I knew several women who were into that meaningless sex thing at that time because it was so "cool" and so "liberating" to be like that. With that said, let's just say, that kind of lifestyle was not, and still isn't, what it is all cracked up to be. Unwanted pregnancies, abortions, and STDs is what these women with whom I knew personally struggled. Oh, and last, but certainly not least ~ BROKEN HEARTS.

tonybigs: Look at the smiling face. A face that "empowered" millions to destroy their lives, the lives around them and the lives within.

stubby1: Why are men so threatened by women having choice, equal pay, and permission to enjoy sex?Real men WANT women to enjoy life and are not threatened by it.
On the horizon: 'DREAM' policy takes effect; Clooney's car auctioned
Immigrants who came to the United States illegally as children can start applying on Wednesday for two-year deferrals from deportation, but will have to pay $465 in fees, a top immigration official announced. The policy is part of the Obama administration's effort to provide the youngest illegal immigrants a path to an employment authorization card without fear of getting deported.
Activist actor George Clooney will auction off his black metallic 2008 Tesla Roadster on Sunday. Proceeds will benefit Clooney's Satellite Sentinel Project, which monitors the movements of warlords in Sudan. The car has a two-tone leather interior and just 1,700 miles on the odometer.
Anniversaries
1914 - The Panama Canal opens to ship traffic.
1945 - Japan announces it will surrender, ending World War II.
1947 - India gains independence from Britain.
1969 - The three-day Woodstock Music and Art Fair opens, drawing 400,000 to a farm in upstate New York.
1998 - A car bomb in Omagh, Northern Ireland, kills 29 people.
2001 - Astronomers discover the first solar system outside our own.
Birthdays
– Actor Mike Connors, 87
– Supreme Court Justice Stephen Breyer, 74
– TV journalist Linda Ellerbee, 68
– Royal daughter Princess Anne, 62
– Actress Debra Messing, 44
– Actor Ben Affleck, 40
– Musician Joe Jonas, 23