The CNN Daily Mash-up is a roundup of some of the most interesting, surprising, curious, poignant or significant items to appear on CNN.com in the past 24 hours. We top it with a collection of the day's most striking photographs from around the world.
That's not a volcano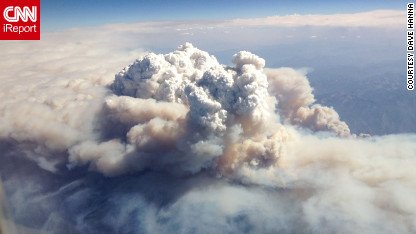 About an hour into a flight from Portland, Oregon, to Chicago, CNN iReporter Dave Hanna of Albany, Oregon, saw a massive smoke plume from a wildfire. It looked like a volcanic eruption.
"I took the first shot of what looked like a big fire, but as we went further along it started to look like a volcano," he told CNN. "I am guessing the smoke went up 30,000 feet. Other passengers were looking out their windows as well."
West Nile virus widow grieves
Betty Best lost her husband, Howard, to the West Nile virus outbreak that has killed 16 people in Texas and 26 nationwide. She says she's ready to leave the Lone Star State - and perhaps this world - behind.
I don't have a lot of desire to hang around here now. And I hope my children understand. You've been with someone 65 years and you go put them in the ground and a part of you goes in there, too.
Here's something you don't see every day
Kid booted from Scrabble tournament
A teenager was caught cheating at a Scrabble tournament and thrown out. Is it the end of civilization as we know it?
maestra730
I'm a public school teacher. I have taught seventh and eighth graders (12- to14-year-olds) from all socioeconomic backgrounds for almost 20 years. Cheating of all kinds (academic, athletic, etc.) has reached an all-time high among kids. Many of our students see nothing wrong with cheating or lying to get what they want because "you gotta do what you gotta do." It is very disheartening, especially when some of their parents do the same thing demanding special "exemptions" for their children because they say the rules are unfair, the child didn't mean to do it, etc. We as the adults must live with integrity ourselves, demonstrate that to our kids, and then insist that they live honestly and responsibly, too. Not easy at all, but better than ending up with a generation full of lying narcissists.

John Walsh
He confused Scrabble for Monopoly.

Jack 63
You can start with the parents not teaching the values. But you have to finish up with the society we have to day which encourages that kind of behavior. From the highest office in the country to copy / paste school homework from the internet, cheating has become the way to go in this country.

Keithlol
I can't help but chuckle as grumpy internet cynics all proclaim that *this* story is a perfect example of how the United States of America's values are crumbling. Are you serious? One kid cheats and you are going to use that as evidence to support your, frankly, childishly narrow view of American values. "His parents must never have taught him a moral code" – give me a break! Do you always act according to how your parents raised you? Doubtful.
Remedy for your Olympic withdrawal
Missing the thrill of the Olympics already? Would just a tiny taste help your London 2012 hangover? Craving a little inspiration and hope for the future? Here you go.
On the horizon: Aurora, Penn State hearings
James Holmes, the man charged with shooting up a movie theater in Aurora, Colorado, is expected in court Thursday. A hearing will be held on whether a package Holmes sent to a university psychiatrist is protected by physician-client privilege.
Meanwhile, attorneys will present oral argument on pretrial motions in the perjury cases of former Penn State Athletic Director Timothy Curley and former university Vice President Gary Schultz. The charges are related to sexual assault allegations against former Penn State assistant football coach Jerry Sandusky.
August 16 anniversaries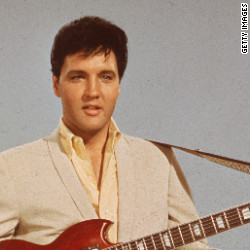 1896 - The Klondike gold rush begins when gold is found in the region.
1948 - Baseball star Babe Ruth dies of cancer at age 53.
1954 - The first issue of Sports Illustrated is published.
1977 - Elvis Presley dies at age 42 at his Graceland mansion in Memphis, Tennessee.
1987 - 156 people are killed when Northwest Airlines Flight 255 crashes after takeoff from Detroit Metropolitan Wayne County Airport. The only survivor is 4-year-old Cecelia Cichan.
2003 - Former Ugandan dictator Idi Amin dies in exile at about age 78 in Jeddah, Saudi Arabia.
2007 - World financial markets fall sharply on reports of problems with the largest U.S. mortgage lender, Countrywide Financial Corp.
August 16 birthdays
– Football player/announcer Frank Gifford, 82
– Ballerina Suzanne Farrell, 67
– TV personality Kathie Lee Gifford, 59
– Director James Cameron, 58
– Actress Angela Bassett, 54
– Pop singer Madonna (Ciccone), 54
– Actress Laura Innes, 53
– Actor Timothy Hutton, 52
– Actor Steve Carell, 49
– Singer/songwriter Vanessa Carlton, 32