The CNN Daily Mash-up is a roundup of some of the most interesting, surprising, curious, poignant or significant items to appear on CNN.com in the past 24 hours. We top it with a collection of the day's most striking photographs from around the world.
Welcome to the club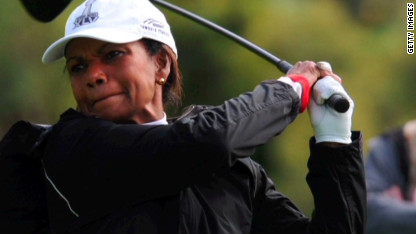 Augusta National Golf Club has admitted its first female members, the private club announced Monday. The decision to admit former U.S. Secretary of State Condoleezza Rice and business executive Darla Moore ends a longstanding policy excluding women as members of the Georgia club, which hosts the prestigious Masters golf tournament every spring.
Augusta National Golf Club Chairman Billy Payne

These accomplished women share our passion for the game of golf and both are well-known and respected by our membership.

Women's rights activist Martha Burk

They have chosen two groundbreaking women, two very prominent women, who are clearly equal in stature to the other members who are, of course, all male. I think it would have been a mistake to choose a lower-profile woman and basically make that statement that, yes, we're letting women in but they're not really going to be equal with the men.
Back off, Brits!
The USS Constitution, the frigate that fought off a British warship 200 years ago in the War of 1812, is still in fighting trim.
Loud and clear
On a slightly overcast day at Liberty State Park during New York City's Air Force Week, CNN iReporter John Dunstan captured this photo of the Air Force squadron the Thunderbirds performing a flyover. "It was such a great scene with the flags, the Statue of Liberty and the jet formation," he says. "I was pretty pleased to get this shot." We're pleased too.
Muslims in New York celebrate Eid al-Fitr
Muslims around the world ended the Ramadan month of fasting this weekend with Eid al-Fitr, a feast of food and family gatherings. CNN iReporter Shameel Arafin captured a nice set of images showing Muslims in New York's East Village celebrating Eid on Sunday.
Fill it to the rim
So, the latest swing in the health-advice pendulum tells us that coffee may provide a health benefit for most women. Just the other day we were told that egg yolks may be worse for us than cigarettes. Breakfast is getting to be too much of a challenge. I think I'll stay in bed. CNN's readers have their own opinions; here's one:
runner305

Recent studies show that continued worrying about what foods are good or bad for you causes hypochondriac-like symptoms. This ultimately leads to a general malaise, depression, high blood pressure, heart disease and death.
Rescue dog adopts kittens
Harmony the Chihuahua was almost a goner, but when the rescue shelter where she was staying acquired two hungry, homeless kittens, it was Harmony who stepped up. CNN affiliate KOVR has the furry video.
On the horizon: Rover test drive, tech lawsuit
Operators at NASA's Jet Propulsion Laboratory plan to put the Curiosity rover through its paces Tuesday, getting it ready to start moving around on Mars looking for cool stuff.
Both sides are expected to begin their closing arguments Tuesday in Apple's patent infringement lawsuit against Samsung.
August 21 anniversaries
1831 - Nat Turner leads a brief slave rebellion in Virginia; 55 people die.
1878 - The American Bar Association is formed in Saratoga Springs, New York.
1911 - An Italian waiter, Vincenzo Perruggia, steals the Mona Lisa from the Louvre museum in Paris.
1959 - Hawaii becomes the 50th state.
1983 - Benigno Aquino, the Philippine opposition leader, is assassinated in Manila.
1986 - A volcanic eruption under a lake in Cameroon releases poison gas, killing about 2,000 people.
1991 - A Communist coup attempt is crushed in Russia.
1993 - NASA loses contact with the Mars Observer space probe.
August 21 birthdays
– Singer Kenny Rogers, 74
– Actor Clarence Williams III, 73
– Singer Jackie DeShannon, 68
– Clash lead singer Joe Strummer, 60
– Actress Kim Cattrall, 56
– AOL co-founder Steve Case, 54
– Actress Carrie-Ann Moss, 45
– Google co-founder Sergey Brin, 39
– Actress Alicia Witt, 36
– Olympic sprinter Usain Bolt, 26