The CNN Daily Mash-up is a roundup of some of the most interesting, surprising, curious, poignant or significant items to appear on CNN.com in the past 24 hours. We top it with a collection of the day's most striking photographs from around the world.
Naked ambition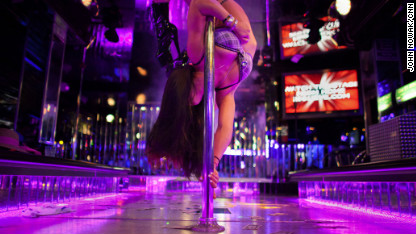 Strippers in Tampa, Florida, are looking forward to next week's Republican National Convention. It's difficult for most folks to imagine what it's like to disrobe for a living, so the women who do it form close bonds. An exotic dancer, Go-Go, explains it in stark terms:
We see each other naked every day, so we kind of open up to each other.
Blind man mugged at gas station
A blind, wheelchair-using man from Rumford, Maine, tells CNN affiliate WMTW he fears a pair of men who robbed him won't face prosecution because he won't be able to identify them. The 31-year-old victim says he was outside a Lewiston gas station Tuesday night waiting for his brother when the men approached and asked for a cigarette. Things went bad from there.
Truck drags man in wheelchair
A man in a wheelchair was injured by a hit-and-run driver in Houston on Wednesday, CNN affiliate KTRK reports. Police say the victim was trying to cross the street in the early afternoon when he was struck. "I saw the truck coming and the truck hit the guy and I started screaming, 'Stop! Please stop! You've got a man under your car,'" said witness Jacquelin Pineda. Police say the man was dragged by a white pickup a few blocks until another driver pulled in front of the truck and blocked it.
Artists' canvas going away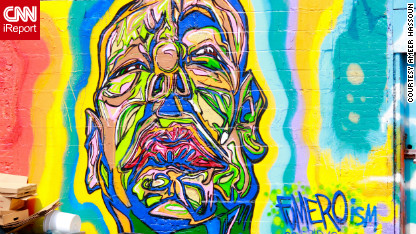 CNN iReporter Ameer Hassoun shot some terrific photos of a graffiti hotspot in Long Island City, Queens, New York, that's slated to be demolished in September. He lives not far from the graffiti-covered warehouse that has long attracted artists from around the world to paint on its walls (with permission of the owner).
The site is due to be replaced by high-rise apartment buildings next year. Hassoun  visited the warehouse on Tuesday and said the details of the pieces are "amazing."
"If you look at them, you get goose bumps," he said, adding that the beauty of the complex is that artists are there all the time, painting new works. He says it's a shame they will be demolished and the neighborhood doesn't need more apartment buildings.
Swing low, sweet chariot
You know that friend of yours with the really deep voice? This guy has him beat.
On the horizon: Casey Anthony, FRC shooting case
If she stays out of trouble for the rest of the night, Casey Anthony will be a free woman without restrictions on Friday. Probation is scheduled to end at midnight for the Florida woman who was acquitted of killing her toddler daughter, Caylee, but convicted of providing false information to investigators.
Floyd Lee Corkins, the man accused of firing shots and wounding a security officer at the Family Research Council's headquarters on August 15, will be arraigned Friday afternoon.
August 24 anniversaries
79 - Mount Vesuvius erupts in southern Italy, destroying the cities of Pompeii, Stabiae and Herculaneum.
1814 - The White House and the Capitol are burned when British troops capture Washington during the War of 1812.
1989 - Pete Rose is suspended for life from baseball after it is determined he bet on baseball games.
1992- Hurricane Andrew makes landfall in South Florida, devastating the city of Homestead and doing significant damage in South Miami.
2006 - Pluto loses its status as a planet at a meeting of the International Astronomical Union.
August 24 birthdays
– Actor Joe Regalbuto, 63
– Author/actor Stephen Fry, 55
– Actor Steve Guttenberg, 54
– Baseball player Cal Ripken Jr., 52
– Actress Marlee Matlin, 47
– Actor Rupert Grint, 24