The CNN Daily Mash-up is a roundup of some of the most interesting, surprising, curious, poignant or significant items to appear on CNN.com in the past 24 hours. We top it with a collection of the day's most striking photographs from around the world.
With Katrina in mind, NOLA gets ready
The Donald on business and politics
Donald Trump - you've heard of him, right? - told Republicans they need to be "mean as hell" against the Democrats in this fall's campaign. He also talked about the challenges business titans such as himself and Mitt Romney can face when they wade into politics:
They've been tough. They've been competitive. They work. They built their business. And honestly, they have left people in their wake, and they've made enemies. ...
They can't really go out there. They can't put it together because all of those people that they beat consistently over a lifetime ... all of those people come back to haunt (them).
Strangers pay bill for sick baby's family
The parents of 4-month-old Paul Sennert must keep an oxygen machine running to keep him alive, but the Woodward, Iowa, family fell behind on their electric bills. When viewers of CNN affiliate KCCI in Des Moines got wind of the Sennerts' dilemma, they stepped up big-time. The family's account with the electric utility has gone from $270 in the red to $1,400 in the black, with that much more on hand to help defray medical bills.
Over the moon over Neil Armstrong
CNN iReporter Michael Black met space pioneer Neil Armstrong at a NASA celebration in April. He describes Armstrong as humble, funny and informative.
"One of the people at my table asked him, 'What are your thoughts about your fame?' and he said, 'I don't deserve it,' " Black recalled.

Black said watching Armstrong's Apollo 11 moon landing inspired him to become a science teacher.
"When I was 10 years old, everyone wanted to be firefighters, policemen or astronauts. Apollo gave teachers the opportunity to say, 'This is what is possible' to students," he said.
Black said he is sad that Armstrong's death faded quickly from the headlines.
"He is one of the most famous people who will ever live," Black said. "Five hundred years from now, so much of history will be forgotten, but people won't forget about Neil Armstrong and Buzz Aldrin walking on the moon."
Earthquakes shake up the conversation
A "swarm" of hundreds of small earthquakes near the California-Mexico border Sunday didn't do much harm, but it did inspire some spirited exchanges among CNN.com users, including this amusing one aimed at comment-thread trolls:
Brewmaster04
Quick!! Relate this to politics and blame a political party!

TunaSalad
These earthquakes are clearly being caused by the massive debt (illustrated by a large bag of money) that California owes, sitting on the left side of the state and therefore causing the earthquakes.

CANEMAN
No, saving the hurricane heading to New Orleans for that!

Truck_In_Ditch
OBOMNEYQUAKES!

TunaSalad
Done!
On the horizon: Republican convention, consumer confidence
The weather-shortened Republican National Convention will get under way in earnest Tuesday in Tampa, Florida. Tuesday's schedule includes the nomination of Wisconsin Rep. Paul Ryan for vice president, and speeches by former presidential hopeful Rick Santorum, New Jersey Gov. Chris Christie, and Mitt Romney's wife, Ann Romney.
The Conference Board will release its latest assessment of consumer confidence at 10 a.m. How confident are you feeling?
August 28 anniversaries
1955 - Black teenager Emmett Till is murdered by a group of white men in Mississippi after he supposedly whistled at a white woman.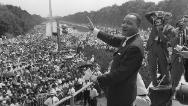 1963 - Dr. Martin Luther King Jr. delivers his "I have a dream" speech during the March on Washington for Jobs and Freedom.
1990 - Several weeks after invading Kuwait, Iraq declares the occupied country its new 19th province.
1996 - Prince Charles and Princess Diana officially divorce.
2006 - Fugitive polygamist leader Warren Jeffs is captured after a routine traffic stop near Las Vegas.
2008 - Barack Obama accepts the Democratic nomination for president.
August 28 birthdays
– Baseball player/manager Lou Piniella, 69
– Baseball pitcher Ron Guidry, 62
– Poet Rita Dove, 60
– Figure skater Scott Hamilton, 54
– Singer Shania Twain, 47
– Actor Jason Priestley, 43
– Singer LeAnn Rimes, 30