The CNN Daily Mash-up is a roundup of some of the most interesting, surprising, curious, poignant or significant items to appear on CNN.com in the past 24 hours. We top it with a collection of the day's most striking photographs from around the world.
Firefighters revive dog
Firefighters in Richfield, Minnesota, were able to revive a dog pulled from a burning house, CNN affiliate KARE reports. No humans were home at the time, and a second dog died in the fire that destroyed the house, but firefighters are trained in animal resuscitation techniques, the station reported.
Massive fire overwhelms firefighters
A fire at a sprawling abandoned hotel in Oregon proved too much for firefighters, who turned out in large numbers but had to stay outside and fight it from there.
Apology by text doesn't cut it
MIT psychologist Sherry Turkle is one of the leading researchers looking into the effects of texting on interpersonal development, Time's Jeffrey Kluger writes. Turkle believes that having a conversation with another person teaches kids to think and reason and self-reflect.
Turkle cites the texted apology — or what she calls "saying 'I'm sorry' and hitting send" — as a vivid example of what's lost when we type instead of speak.
A full-scale apology means I know I've hurt you, I get to see that in your eyes. You get to see that I'm uncomfortable, and with that, the compassion response kicks in. There are many steps, and they're all bypassed when we text.
Ganesh festival lights up Paris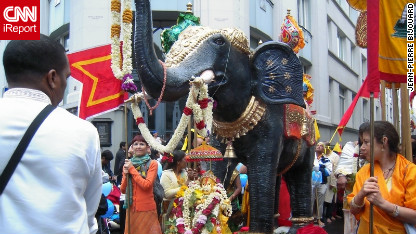 CNN iReporter Jean-Pierre Bijouard photographed the Ganesh Festival held Sunday in Paris. "It's an important day for Indian people who have the opportunity to celebrate Ganesh, the god of prosperity, sharing their enthusiasm with the public," he said.
Parenthood vs. politics
President Barack Obama told CNN's Jessica Yellin that he doesn't socialize as much as some Washington insiders would like because he's intent on spending quality time with his wife and daughters. CNN readers reflected on his position in their published comments:
TESSA2U

He is available all day 7:00 AM to 6:00 PM...why can't Congress "interact" during those hours? I find it admirable that he puts parenthood at the top of his list...as it should be.

Operation Plumbbob

I respect that Obama wants to balance his job with his role as a dad. But it does make me question whether a president should have kids that are young enough that they're a distraction from his position as leader of the country. We might want to think about electing someone who has kids that are already adults, who will need parenting a bit less. Seems fairest to the family and the nation.
On the horizon: Bin Laden book, DNC speeches
"No Easy Day," the much-anticipated book about the Navy SEAL raid that killed Osama bin Laden, goes on sale Tuesday, a week earlier than originally planned. The book was written by former SEAL Matt Bissonnette under the pen name Mark Owen.
Julian Castro, the mayor of San Antonio, Texas, will deliver the keynote address at the Democratic National Convention on Tuesday night. Also in the podium lineup is first lady Michelle Obama.
September 4 anniversaries
1781: Spanish settlers found Los Angeles.
1886: Apache leader Geronimo surrenders, ending the last major Indian war.
1957: Arkansas Gov. Orval Faubus calls out the National Guard to prevent 9 black students from entering an all-white high school in Little Rock.
1957: Ford introduces the Edsel automobile.
1972: Mark Spitz of the U.S. wins his seventh gold medal at the Munich Olympics.
2006: "The Crocodile Hunter" Steve Irwin dies at 44 after being stabbed in the heart by a stingray's barbed tail.
2007: Category 5 Hurricane Felix makes landfall in Nicaragua.
September 4 birthdays
•  Singer/dancer/actress Mitzi Gaynor, 81
• Actress Judith Ivey, 61
• Actress Khandi Alexander, 55
• Actor/comedian Damon Wayans, 52
• Actress Ione Skye, 42
• Actor Wes Bentley, 34
• Singer/actress Beyoncé Knowles, 31