The CNN Daily Mash-up is a roundup of some of the most interesting, surprising, curious, poignant or significant items to appear on CNN.com in the past 24 hours. We top it with a collection of the day's most striking photographs from around the world.
Not a fan of paparazzi
Brent Olsen looked out his window in Westford, Vermont, and saw a bull moose placing a hoof on Olsen's car.
"I had run out in my shorts from the morning and I started hollering at it: 'Do not jump on my car, Mr. Moose,'" Olsen told CNN affiliate WCAX.
Once he was satisfied his car was safe, Olsen decided to shoot some video of the "cute" animal with ivy tangled in its antlers.
That's when the scene switched from a nature documentary to some kind of weird slasher movie. WCAX tells the rest of the story here.
How long can you hold your breath?
The first family, firsthand
Michelle Obama offered listeners an intimate look into how the presidency affects family dynamics and vice versa Tuesday night at the Democratic National Convention.
Well, today, after so many struggles and triumphs and moments that have tested my husband in ways I never could have imagined, I have seen firsthand that being president doesn't change who you are - it reveals who you are.
Spectacular clouds follow storm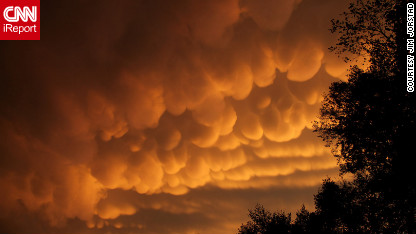 CNN iReporter Jim Jorstad in La Crosse, Wisconsin, saw an ominous yellow glow out the window of his house on Tuesday night and raced outside to see some impressive cloud formations.
CNN meteorologist Sarah Dillingham explains the pillow-like clouds are called "mammatus" for their "breast-like" appearance. "They are a typical cloud formation that we see with active or dying thunderstorms," she said. "These clouds typically appear most impressive as the sunlight shines behind a trailing thunderstorm and reveals their incredible structure."
On the horizon: Obama acceptance speech, VMAs
President Barack Obama will accept his party's renomination with a speech on the final day of the Democratic National Convention in Charlotte, North Carolina.
MTV's Video Music Awards show will be broadcast live from the Staples Center in Los Angeles at 8 p.m. ET.
1901 - President William McKinley is shot by anarchist Leon Czolgosz in Buffalo, New York; McKinley dies eight days later.
1991 - The Soviet Union recognizes the independence of Latvia, Lithuania, and Estonia.
1995 - By playing in his 2,131st baseball game, Cal Ripken Jr. of the Baltimore Orioles breaks Lou Gehrig's record of most consecutive games played.
1997 - Funeral services are held for Diana, the Princess of Wales, at Westminster Abbey.
2003 - Mahmoud Abbas resigns as Palestinian prime minister.
2004 - Former President Bill Clinton has quadruple heart bypass surgery.
September 6 birthdays
• Comedian Jo Anne Worley, 75
• Actress Swoosie Kurtz, 68
• Actress Jane Curtin, 65
• Comedian/actor Jeff Foxworthy, 54
• Actress Rosie Perez, 48
• Singer Macy Gray, 45