The CNN Daily Mash-up is a roundup of some of the most interesting, surprising, curious, poignant or significant items to appear on CNN.com in the past 24 hours. We top it with a collection of the day's most striking photographs from around the world.
Oh sure, blame it on the squirrel
Homes saved from brush fire at last minute
iReporter Andy Deane was relieved to see a helicopter crew dropping water on a brush fire in Murrieta, California, on Sunday, as the fire neared homes and Calvary Chapel Bible College, which is at the bottom of the hill.
"We have 500 students that all smelled the fire. We had all the students pray at 7 p.m. for the safety of the community and firefighters. The students' parents were calling concerned we would evacuate them, but the township told us that we were safe and it was not necessary," he said.
Deane shot some dramatic video of the copter, which you can view here.
Cute animal video alert
Fond memories of Andy Williams
CNN readers were quick to share their memories of watching Andy Williams on TV or in person and listening to his music, especially during the holidays. Williams, whose biggest hit was the ubiquitous elevator song "Moon River," died of bladder cancer Tuesday night at 84.
Solex
As a late baby boomer, I remember the Andy Williams specials and shows as a kid sitting on the floor of our living room watching our console TV - the kind that had a record player and radio as well.
My dad was a HUGE fan of his and I remember nothing but good things about him and his music.
Goodbye Andy - you finally crossed over Moon River.

Jon Herman
I lived and worked in Branson for 10 years.  When I worked at the movie theater, he would rent out a theater after hours on occasion for his employees.  He was great to talk with and down to earth.  His music was legendary, and he will be missed by many.  He helped build Branson to what it is now by building his theater.  Before Moon River theater, they were all small, cramped and low-budget theaters.  He shined up the place and put a new face on the town.
Step away from the smartphone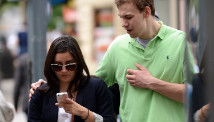 Tech-savvy Americans are forgetting how to do nothing, it seems. Christopher Lynn, an anthropology professor at the University of Alabama, compares tapping at smartphones to smoking a cigarette.
When you're habituated to constant stimulation, when you lack it, you sort of don't know what to do with yourself. ... When we aren't used to having down time, it results in anxiety. 'Oh my God, I should be doing something.' And we reach for the smartphone. It's our omnipresent relief from that.
On the horizon: Netanyahu at U.N., latest GDP report
Israeli Prime Minister Benjamin Netanyahu will address the United Nations General Assembly on Thursday amid tensions between his country and Iran. Palestinian President Mahmoud Abbas also will speak to the gathering.
The Commerce Department and the Bureau of Economic Analysis will provide a snapshot of the U.S. economy with the release of second-quarter gross domestic product figures at 8:30 a.m. ET.
September 27 anniversaries
1954 - "The Tonight Show" premieres, with Steve Allen as host.
1959 - Typhoon Vera hits the Japanese island of Honshu, killing almost 5,000 people.
1964 - The Warren Commission investigating the John F. Kennedy assassination releases its report, concluding that Lee Harvey Oswald acted alone.
1998 - St. Louis Cardinals baseball player Mark McGwire hits his 70th home run, setting a Major League record.
September 27 birthdays
• Actor Wilford Brimley, 78
• Singer/reality star Meat Loaf, 65
• Baseball player Mike Schmidt, 63
• Actor Cary-Hiroyuki Tagawa, 62
• Singer/actor Shaun Cassidy, 54
• Singer Avril Lavigne, 28