The CNN Daily Mash-up is a roundup of some of the most interesting, surprising, curious, poignant or significant items to appear on CNN.com in the past 24 hours. We top it with a collection of the day's most striking photographs from around the world.
Lil Wayne gives quite a performance
Faithful celebrate 'no matter where'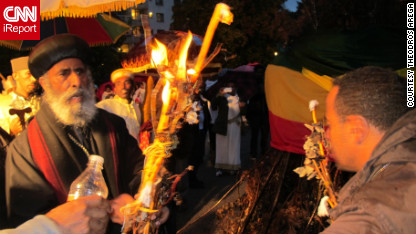 iReporter Theodros Arega captured vibrant images of Ethiopian Orthodox Christians celebrating the annual Meskel religious festival in Stockholm, Sweden.
The festival commemorates what they believe is the finding of "the true cross" by St. Helena in the fourth century. The highlight of the festival is a Demera ceremony, where a massive bonfire is lighted and attendees celebrate with songs.
"Many Ethiopians who live abroad stick to their culture and tradition no matter where they live and how difficult it is," he said. "I'd never been to this beautiful celebration in Stockholm, and I was eager to document it."
Netanyahu describes Iran as a threat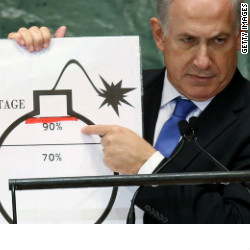 Israeli Prime Minister Benjamin Netanyahu told the United Nations General Assembly on Wednesday that the members owed it to themselves to stop Iran from acquiring nuclear capability.
I ask, given this record of Iranian agression without nuclear weapons, just imagine Iranian aggression with nuclear weapons. Who among you would feel safe in the Middle East? Who would be safe in Europe? Who would be safe in America? Who would be safe anywhere?
Now that's service: 70 years with the Navy
Sarkis Tatigian is 89 years old and has been working with the Navy since he was 19, CNN affiliate WUSA reports.
Tartigian started in 1942 as as a junior radio aircraft inspector in Philadelphia. Now, he is associate director of small business at Naval Seas Systems Command at D.C.'s Washington Navy Yard, where he was honored in a ceremony this week.
"It's a feeling you're accomplishing something, worth something, part of something," Tatigian said.
"This is what Dad's been working towards," daughter Linda Tatigian-Mckevitt said. "One year leads into the next, and before you know, it's 70 years. It's remarkable."
NFL brings refs back: How much does it matter?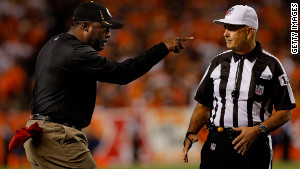 Amens and hallelujahs went up from football fans with the announcement early Thursday morning of a deal to end the NFL's lockout of referees. However, thinking back to the Chicago teachers' strike, CNN reader Brian Judge asked a pointed question:
Teachers we vilify but refs we support?  What's wrong with this picture?
On the horizon: Hoffa dig, World Rabies Day
James Berlin, the chief of police in Roseville, Michigan, says his department will conduct a core sample search Friday at a residence in the Detroit suburb after a tipster claimed a body was buried there around the same time Teamsters boss Jimmy Hoffa disappeared in 1975.
Friday also is World Rabies Day. Kiss a raccoon.
September 28 anniversaries
1066: William the Conqueror begins the Norman Conquest of England.
1924: The first around-the-world flight is completed when the two planes involved in the trek land in Seattle.
1978: Pope John Paul I dies after having served only 34 days.
1989: Deposed Philippines President Ferdinand Marcos dies in Hawaii at the age of 72.
2000: Likud Party leader Ariel Sharon visits Jerusalem's Temple Mount, which triggers rioting and begins the second Intifada.
2005: House Majority Leader Tom DeLay is indicted on a conspiracy charge.
September 28 birthdays
• Actress/animal rights activist Brigitte Bardot, 78
• Singer Ben E. King, 74
• Film director John Sayles, 62
• Actress/political activist Janeane Garofalo, 48
• Actress Naomi Watts, 44
• Actress/singer Hilary Duff, 25