Editor's note: Six days after Sandy slammed into the U.S. East Coast, the storm's U.S. death toll continues to rise - reaching 110 on Sunday, in addition to two killed by the storm in Canada and 67 in the Caribbean. Click here to read more about the recovery effort.
[Updated at 9:47 p.m.] "The operation to secure the boom of the tower crane on West 57th Street is complete," said Tony Sciafani, spokesman for New York's Department of Buildings. Six days ago, high winds from Sandy left it dangling and spurred fears it could fall. But now, "all buildings in the vicinity can be reoccupied," said Sciafini.
This photo shows the crane as it appeared Saturday, when efforts to secure it were already well underway: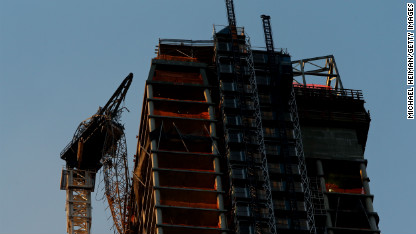 [Updated at 8:30 p.m.] More than 1.5 million customers were still without power on Sunday night, six days after Sandy slammed into the U.S. East Coast, according to data from utilities. More than 900,000 of those outages were in New Jersey, with about half a million in New York.
[Updated at 6:07 p.m.] An estimated 27% of stations in metropolitan New York - which includes parts of Connecticut, New Jersey and New York state - do not have gas for sale, the U.S. Energy Information Administration reports. This is down from roughly 38% on Saturday and 67% on Friday, when significant power outages and a dearth of gas led to hours-long lines at stations that were open for business.
Whereas the U.S. Energy Information Administration reported no gas in 67% of metropolitan New York stations on Friday, the federal agency estimated that figure plummeted to 38% on Saturday.
[Updated at 5:46 p.m.] CNN's "Reliable Sources" looks at the role social media played in coverage of Sandy and its aftermath:
[Updated at 5:40 p.m.] Another 11 stocked U.S. military planes were set to arrive today at Stewart Air National Guard Base, about 60 miles north of New York City, the Defense Department said. Already, some 117 power restoration vehicles and 244 technical personnel have been flown to the same base. In addition, two C-130 planes will fly to eastern West Virginia with blankets that will be turned over to FEMA.
[Updated at 5:24 p.m.] While there are schedule modifications and possible delays, Amtrak trains should operate Monday morning throughout the Northeast and mid-Atlantic. That includes Acela Express and Northeast Regional service "with reduced frequencies," and Empire Service between New York and Albany on a "modified schedule." Long-distance trains "will operate normally" in and out of New York City, Amtrak said.
[Updated at 5:08 p.m.] The overall U.S. death toll from Sandy is 110, after New York police revised the number of fatalities from that city. The Police Department said the city's number of "storm-related deaths reverted to 40 today, after one fatality was determined not to have been caused by the storm." Some 179 fatalities in the United States and elsewhere can be traced to the storm.
Who are the victims of Superstorm Sandy?
[Updated at 4:40 p.m.] PepsiCo has donated eight trailer trucks of drinks and snacks, while WalMart has given six trailers full of various items to help New Yorkers still suffering because of Superstorm Sandy, Gov. Andrew Cuomo said.
WalMart's donation includes 5,895 cases of cleaning supplies and 2,051 board games. PepsiCo, meanwhile, is sending more than 100,000 cases of items such as Aquafina, Mountain Dew and Doritos, with a promise of 22 more trailer trucks full of goods later this week.
[Updated at 4:12 p.m.] About 164,000 Connecticut, New York and New Jersey residents have applied for federal assistance from FEMA, which has already approved more than $137 million in direct assistance for those in need, the White House said today. Some FEMA personnel are on the ground in the affected region.
[Updated at 4:05 p.m.] New York Lt. Gov. Robert Duffy engages in discussions in Lindenhurst, on Long Island's southern coast, about how to help residents hit hard by the storm:
[tweet https://twitter.com/NYGovCuomo/status/265188651766542336/%5D
[Updated at 3:19 p.m.] The American Red Cross said 60 more trailers of relief supplies, packed with things such as hygiene items, cleaning supplies, tarps, masks and gloves, headed this weekend to storm-stricken areas.
[Updated 1:20 p.m.] New York State may allow voting past Tuesday, since so many people's lives have been disrupted by Superstorm Sandy.
The state Board of Elections told CNN that if a county determines it has less than 25% turnout, it can request a second day of voting.  The board would consider the request and, if approved, a second day of voting would be scheduled within 20 days of Tuesday.
"To my knowledge this has never happened in New York," board spokesman Thomas Connolly said.  "Will the turnout be low?  It's hard to say - probably, it all depends if people have other priorities."
[Updated 11:52 a.m.] More than 10,000 people across nine states spent last night in 123 shelters operated by the Red Cross, the agency told CNN.  The American Red Cross has 5,000 personnel in the region stricken by Superstorm Sandy, and is moving 80,000 blankets in ahead of colder weather expected this week.
[Updated 11:38 a.m.] Superstorm Sandy is now blamed for at least 111 deaths in the United States. The figure includes 48 in New York, 24 in New Jersey, 11 in Maryland, four in Connecticut, two in Virginia, six in West Virginia, one in North Carolina, one on the HMS Bounty, and one in New Hampshire, according to officials in the affected states.  It also includes 13 deaths in Pennsylvania, according to coroner reports.  The Pennsylvania Emergency Management Agency says it has confirmed that seven of those 13 are storm related; the other six remain under review.
There were also two deaths reported in Canada and 67 in the Caribbean, bringing the overall death toll to 180.
[Updated 11:23 a.m.] The New York City Board of Elections has decided to temporarily relocate or combine some polling locations across all five boroughs because of damage from Superstorm Sandy.
[Posted 10:16 a.m.] Tens of thousands of New Yorkers will need housing after damage from Sandy, New York Gov. Andrew Cuomo said today.
"People are in homes that are uninhabitable. It's going to become increasingly clear that they're uninhabitable when the temperature drops and the heat doesn't come on," he told reporters. "The reality is going to be in the temperature. We're going to have tens of thousands of people that need housing solutions right away."
Conditions are similar in stricken parts of other states.
New York Mayor Michael Bloomberg said he plans to take the subway on Monday, a sign that transit is coming back.
And with the presidential election coming Tuesday, Bloomberg vowed, "We'll do anything we can to help the board of elections."