Hillary Clinton went back to work as secretary of state this morning and was greeted by colleagues showing off their sense of humor.
First off, we got the official State Department photo of her hosting the weekly meeting of assistant secretaries of state. All very appropriate.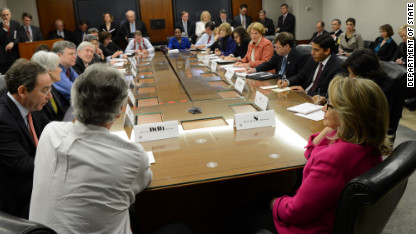 But then came word from spokeswoman Victoria Nuland that there had been some teasing too.
Deputy Secretary of State Thomas Nides handed Clinton a box, saying, "As you know, Washington is a contact sport."
"Inside was a football helmet with a State Department seal, Â lots of good padding and also a football jersey that said Clinton on the back and on the front it says #112 which symbolizes the number of countries she visited as secretary of state," Nuland said.
"She loved it. Â She thought it was cool. Â But then being Hillary Clinton she wanted to get right to business."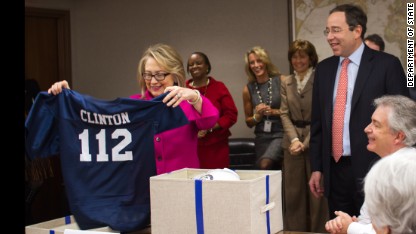 Clinton had been out for a while, being treated for a blood clot.
Obama's cabinet: Who's in, who's out
Anything but fond farewell so far for Clinton as top diplomat