The Supreme Court is hearing two cases this week in the appeals to state and federal laws restricting same-sex marriage.
The court today first tackles an appeal of California's ban on same-sex marriage, known as Proposition 8.
Tomorrow, the justices will hear oral arguments over the federal Defense of Marriage Act.
Live updates below. Also, read the full story.
[Updated at 12:48 p.m. ET] We're signing off on this end for now - check out our main story for more detail and analysis as it comes today. We answer your questions here, and want to hear from you here.
Don't forget to join us again here tomorrow, when the Supreme Court hears the second round of debate on same-sex marriage: the Defense of Marriage Act.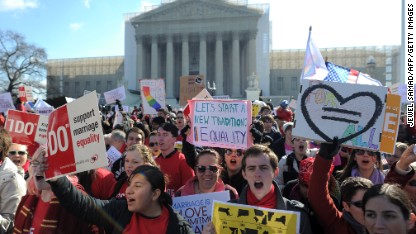 [Updated at 12:31 p.m. ET] Director Rob Reiner, who watched today's oral arguments, is a vocal critic against Proposition 8. Here's what he had to say after court adjourned:
"Today is a historic day for all those who believe in freedom and equality. After more than four years of working our case through victories at the federal District and Circuit courts, we finally had an opportunity today to present our arguments in support of marriage equality for gay and lesbian Americans before the highest court in the land. This case has always been about the love shared by two individuals and about the central promise from our nation's founding that all men are created equal and are endowed with inalienable rights, including the pursuit of happiness.
[Updated at 12:11 p.m. ET] Andrew Pugno, general counsel for ProtectMarriage.com, tells reporters outside the court that he believes both sides of the argument have agreed that it is impossible to know with certainly how society would change by redefining "a fundamental institution such as marriage.
[Updated at 12:04 p.m. ET] "Today we feel we clearly presented the winning case for marriage," says Andrew Pugno, general counsel for ProtectMarriage.com, who is speaking with reporters now.
[Updated at 12:01 p.m. ET] Charles Cooper, lead counsel defending Proposition 8, told reporters that he couldn't sum up his argument in a couple of sentences. "We believe Proposition 8 is constitutional," he said, making a brief statement.
[Updated at 11:48 a.m. ET] Kris Perry, a plaintiff in the Prop 8 case, just spoke, saying: "In this country as children, we learn that there's a founding principle, that all men and women are created equal. … Unfortunately with the passage of Proposition 8, we learned that there are group of people in California who are not being treated equally."
"We look forward to a day when prop 8 is officially eliminated and equality is restored to the state of California."
[Updated at 11:45 a.m. ET] Republican Ted Olson and Democrat David Boies, who joined forces to argue against Prop 8, are speaking outside the courthouse now. What's important from today, Olson said, is "the American people were listening to the argument. The other side, nobody really offered a defense."
"We're very gratified they listened, they heard, they asked hard questions, (but) there is no denying where the right is, and we hope the court (rules that way) in June."
[Updated at 11:43 a.m. ET] According to Toobin, there were a lot of questions along these lines from Justices Scalia and Alito: We don't know the effects of same sex parenting on children, so why don't we wait and let the states go experiment? Why do we, the Supreme Court, have to get involved in this process?
Toobin said Roberts also seemed sympathetic to these questions.
[Updated at 11:39 a.m. ET] The attorney general and the governor of California have refused to defend Prop 8. So the question, Toobin says, is "Who can defend the law? Who has the standing?" The answer to that question will be key to resolving the case.
Conservative Justices Scalia, Alito and Roberts were "very hostile of idea of the court imposing same sex marriage," according to Toobin. The four Democratic justices seemed favorably disposed.
Justice Kennedy seemed like he was in the middle, he said things that would "give comfort for both sides," Toobin says. Kennedy suggested the issue was brought prematurely before the court.
[Updated at 11:37 a.m. ET] The justices seemed very focused on how Prop 8 affects children, with Justice Kagan at some point suggesting that California have a law allowing same-sex marriage for people past child-bearing age, Toobin said.
Kagan said, according to Toobin: "I assure you if two 55 year old people, there aren't a lot of children (coming from that marriage)."
[Updated at 11:34 a.m. ET] "This was a deeply divided Supreme Court, a court that seemed groping for answers," CNN senior legal analyst Jeffrey Toobin said after watching the arguments. "Now I think its even harder to predict the result of this case after hearing this argument."
[Updated at 11:31 a.m. ET] Oral arguments have wrapped up, according to CNN Supreme Court producer Bill Mears. They went just a bit over schedule, lasting about one hour and 20 minutes.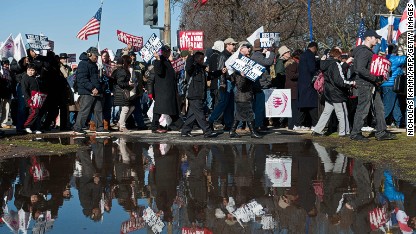 [Updated at 11:23 a.m. ET] While we wait on word from the courthouse, consider this: A new CNN/ORC International Poll indicates that 53% of Americans support same-sex marriage. In the same survey, 57% of respondents said they had a family member or close friend who is gay or lesbian.
Here's a look at the issue, by the numbers.
[Updated at 11:06 a.m. ET] The same-sex marriage debate is a huge issue, and the lawyers inside were penciled in for an hour to make their cases. Doesn't sound like much time, but to be fair, the oral arguments regarding the Affordable Care Act (aka "Obamacare") last March lasted roughly two hours.
Tomorrow's DOMA arguments have been given one hour and 50 minutes. We'll see if they stay on schedule today.
[Updated at 10:46 a.m. ET] If all is going to plan, Jean Podrasky, a lesbian whose first cousin happens to be Chief Justice John Roberts, is inside the court hearing the arguments.
"I know that my cousin is a good man," she wrote in an op-ed this week. "I feel confident that John is wise enough to see that society is becoming more accepting of the humanity of same-sex couples and the simple truth that we deserve to be treated with dignity, respect, and equality under the law."
You might see a lot of red avatars with a "=" equal sign in your Twitter feed today. Supporters of marriage rights for same-sex couples are wearing red today to show their support – both on their persons and their social media accounts. That includes Maryland Gov. Martin O'Malley.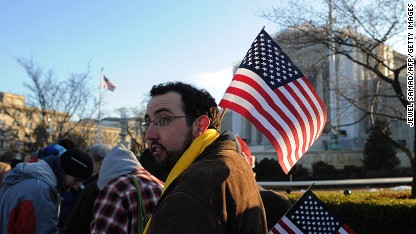 [Updated at 10:39 a.m. ET] You can find a reminder of who's who among the nine justices here.
Try clicking on each photo to learn more about the men and women who will decide the legal fate of same-sex marriage (for now anyway) – see where they were born and educated, their career highlights and their religion.
[Updated at 10:30 a.m. ET] Inside, we expect Republican Ted Olson and Democrat David Boies joining forces in pushing for legal recognition of same-sex marriage. Prominent Washington attorney Charles Cooper will lead the defense of Proposition 8, the California referendum against same-sex marriage.
Fun fact: Olson and Boies argued opposite sides of the landmark 2000 Bush v. Gore case, which decided that presidential election.
[Updated at 10:23 a.m. ET] The temperature is rising a bit and so is the volume. Thousands have amassed in front of the U.S. Supreme court as the morning warms up.
If everything is proceeding as scheduled, oral arguments should be getting started inside the courtroom.
[Updated at 10:11 a.m. ET] The atmosphere probably pretty somber inside the court, but outside the speakers are blaring with music and the occasional chant: "Gay, straight, black, white - marriage is a civil right!"
CNN contributors David Frum and LZ Granderson have both taken to the mic, keeping the crowd charged up.
"No agency of the government can do for anyone what loving spouses do for each other," Frum said. "Today your families gather before this house of law to claim the right to live as others do without fear."
"I did not come here to ask anybody permission to love. I did not come here to (seek ) approval," said Granderson. "… I am here because 14 times the Supreme Court (ruled that marriage is) a fundamental right, and gay and lesbian couples deserve their fundamental rights!"
"Same-sex couples are not here asking for a seat at the table because we've always been here," he added. "We're not here at the steps of Supreme Court to beg. ... I too sing, America."
[Updated at 10 a.m. ET] Nope, we don't have cameras in the courtroom, but the high court should be in session at this point. After a few minutes of routine business, oral arguments should get underway at about 10:15 a.m. In addition to Jeffrey Toobin, CNN has Correspondent Joe Johns and Supreme Court producer Bill Mears watching the arguments firsthand. Stay tuned here for developments.
[Updated at 9:50 a.m. ET] As the justices gather, the court of public opinion is already weighing in - certainly on Twitter. At 9:30 a.m. ET, five of the top U.S. trends were related to the hearing today. Though, this being Twitter, #ThoughtsInBed was also riding high.
Here's what some people are saying:
And pics from our senior legal analyst:
https://twitter.com/JeffreyToobin/status/316530205973962753
[Updated at 9:43 a.m. ET] Today's arguments have sparked conversation beyond the steps of the Supreme Court. Supporters and opponents of same-sex marriage are capturing the moment on social media. Here's one from NOH8 Campaign, who support marriage equality:
Opponents of same-sex marriage have also shown up in droves in Washington, but the rallies have kept peaceful. Here's a tweet from Alliance Defending Freedom:
[Updated at 9:26 a.m. ET] Less than an hour away from the start of oral arguments and protests outside the Supreme Court are gaining momentum. Supporters of same-sex marriage and LGBT rights are holding a rally, celebrating the historic significance of today's events.
"We are all participants of American history today - let's get this party started!" two of the organizers shouted at a cheering audience.
The crowd is holding signs, saying, "Married with pride" and "Marriage is love, commitment and family."
"Condemn hatred, embrace marriage!" the crowd chanted.
Among the speakers is retired Lt. Col. Linda Campbell, a 25-year military veteran, who was allowed to bury her partner, Nancy Lynchild, at Willamette National Cemetery. It is believed to be the first case of its kind, the same-sex spouse of a member of the military to be buried in a national cemetery.
"I know the spirit of my spouse Nancy is smiling on us today," Campbell said today.
[Updated at 8:34 a.m. ET] Looks like Justice Kennedy will definitely be the one to watch today.
"What am I looking to? Justice Kennedy in his questioning," said California Lt. Gov. Gavin Newsom who, as San Francisco mayor in 2004, stoked controversy by ordering City Hall to issue marriage licenses to same-sex couples.
He told CNN's "Starting Point" this morning that Kennedy would be key because he wrote the majority opinion in the 1996 case of Romer V. Evans in Colorado. The case dealt with Amendment 2, a Colorado initiative that banned state government from passing laws prohibiting discrimination against the LGBT community. The Supreme Court struck down the law in a 6-3 vote.
[Updated at 8:15 a.m. ET] Protesters are braving temperatures in 30s outside the high court this morning to make their stand in the same-sex marriage debate. Rainbow flags are flapping next to American ones as demonstrators bundled in thick coats and scarves hold up banners reading "The nation is ready for Marriage Equality" and "Faith Alliance to preserve the sanctity of marriage as defined by God."
[Updated at 7:55 a.m. ET] Today's oral arguments will focus on Proposition 8, a ballot initiative that was approved by California voters in a 52-48% vote in November 2008. The vote happened less than six months after the state Supreme Court ruled marriage was a fundamental right that must be extended to same-sex couples.
Its approval immediately ended same-sex marriages in the state, but opponents of the measure challenged it in court and have succeeded in convincing federal judges at the district and appellate levels to find the ban unconstitutional.
The Supreme Court will open its doors to the public and the media at 8 a.m. ET, two hours before oral arguments are scheduled to start.
[Updated at 7:23 a.m. ET] The justice to keep an eye on is Anthony Kennedy, who may be the crucial fifth vote on either side, says CNN's senior legal analyst Jeffrey Toobin.
"I will be listening to what Justice Anthony Kennedy says," Toobin said about the oral arguments. The four Democratic appointees - Justices Ginsburg, Breyer, Sotomayor and Kagan - will likely all vote for marriage equality.
"The most likely person to give the fifth vote is Anthony Kennedy," Toobin said.
Toobin likened the same-sex marriage argument to Loving v. Virginia, a landmark civil rights decision by the Supreme Court in 1967 that deemed laws prohibiting interracial marriages unconstitutional.
[Posted at 7:11 a.m. ET] Supreme Court justices this morning will launch an epic dialogue when they hear oral arguments in the first of two appeals to state and federal laws restricting same-sex marriage.
The first round today will deal with an appeal of California's Proposition 8, which defines marriage as between a man and a woman. The second round, scheduled for tomorrow, will tackle the 1996 federal Defense of Marriage Act (DOMA) and a constitutional appeal over same-sex marriage and "equal protection."
The arguments will start at 10 a.m. ET today, but don't expect a decision until at least June.