Today's arguments focused on federal Defense of Marriage Act.
It denies Social Security, other spousal benefits to same-sex couples.
The court heard 80 minutes of arguments yesterday focused on California same-sex marriage ban.
Live updates below. Also, read the full story; and share your thoughts.
[Updated at 1:36 p.m.] We're wrapping up Day 2 of the same-sex marriage court debate here - check out our main story for more detail and analysis as it comes today. As always, we want to hear from you.
[Updated at 1:20 p.m.] "I'm very optimistic that DOMA will be struck down, it has no rational basis for being," House Minority Leader Nancy Pelosi said just now. Pelosi was at the Supreme Court to hear arguments over DOMA and California's Proposition 8 over the past two days.
Pelosi's district has been at the epicenter of gay rights for decades. She called the oral arguments at the Supreme Court "thrilling."
[Updated at 1:01 p.m.] According to CNN Supreme Court Producer Bill Mears, the court appeared divided along ideological lines about whether DOMA is discriminatory and steps on state marriage laws for gays and lesbians.
If legally married homosexuals were being denied more than 1,100 federal benefits, "What kind of marriage is that?" asked Justice Ruth Bader Ginsburg. She said the discriminatory effect was "pervasive."
But when Windsor's lawyer argued in court there was a "sea change" afoot today in support of same-sex marriage that leaves DOMA outdated, Chief Justice John Roberts said that was because of "the political effectiveness of those on your side" swaying public opinion.
Roberts and Justice Antonin Scalia suggested DOMA could still remain in place as a valid extension of congressional authority. Forty-one states do not allow same-sex marriage.
The potential swing vote, Justice Anthony Kennedy, said DOMA presents a "real risk of running into traditional state police power to regulate marriage."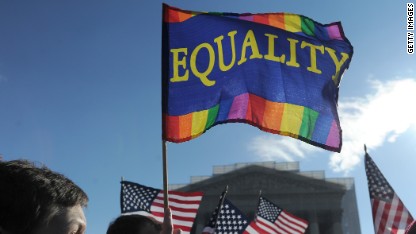 [Updated at 12:54 p.m.] The case of DOMA plaintiff Edie Windsor originated in New York, where Donna Lieberman heads the New York Civil Liberties Union.
"My state, the state of New York, respects the rights of all couples, straight or gay, to marry," Lieberman told reporters just moments ago. "But as long as DOMA remains on the books, the marriages are not truly equal. The federal government treats New York gay and lesbian couples as if they don't exist. … It's time the federal government treats the marriages of all New Yorkers with the respect and dignity … they deserve."
The federal government 'Äúshould never relegate the marriage of a couple like Edie and Thea to the legal status of strangers,'ÄĚ she said.
[Updated at 12:43 p.m.] Marriage is a magic word, Windsor says, for anyone who doesn't understand why she still wanted to get married at age 73 to her partner, Thea Clara Spyer.
"I felt very serious" in court today, she says.
How does she think the oral argument went? "I think it went beautifully. I think the justices were gentle, if I can use that word. They were direct, they asked all the right questions - but I didn't feel any hostility. ... I think it's going to be good."
She showed off a diamond brooch in the shape of a circle that she was given decades ago by Spyer when they wanted to be engaged. Windsor said the couple picked the brooch over a traditional engagement ring because Windsor wasn't ready to come out yet.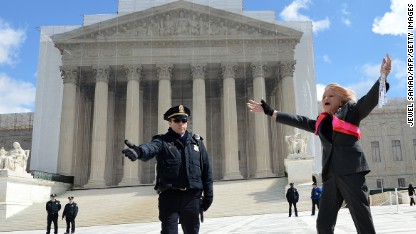 [Updated at 12:41 p.m.] Windsor takes the mic and says, "Today, I'm an out lesbian who just sued the United States government. It's a little overwhelming."
[Updated at 12:37 p.m.] Windsor's attorney, Roberta Kaplan, told reporters just now: "Today's arguments tells the lesson of why it is we have a Constitution: to bind us together as citizens of one nation, all of whom are guaranteed equal protection under the law. There is no one individual who personifies the concept of equal protection like Edie Windsor."
[Updated at 12:32 p.m.] Edie Windsor is walking out, and being greeted by cheering crowds. Alicia Keys' "Girl On Fire" is blasting from speakers.
[Updated at 12:29 p.m.] 'ÄúThe court appears to be moving toward an out if it wants it on procedural grounds,'ÄĚ CNN Correspondent Joe Johns said just minutes ago. At issue is whether House Republicans have standing to defend DOMA instead of the Obama administration, which has decided not to defend it.
As for the merits of the case, there was a lot of discussion as to why the U.S. Congress passed DOMA in 1996 'Äď whether it was just trying to ensure legal uniformity on marriage, or whether something else was afoot, like moral disapproval of homosexuality, Johns said.
[Updated at 12:22 p.m.] "They are obviously very deeply split. But I think DOMA is in trouble," says CNN Senior Legal Analyst Jeffrey Toobin of the Supreme Court justices after watching the arguments.
[Updated at 12:20 p.m.] Both parties are leaving the courthouse right now. Stay tuned for latest developments.
[Updated at 12:16 p.m.] Oral arguments on the Defense of Marriage Act at the Supreme Court have ended after nearly two hours.
[Updated at 11:49 a.m.] If the high court is on schedule, the oral arguments should be more than three-quarters of the way through. Just outside, protesters are speaking out about why the fight over DOMA is so important to them. Here's a snapshot of some folks tweeting outside the Supreme Court:
[Updated at 11:27 a.m.] A number of legal observers have pointed out that the court, when it makes its decision on DOMA later this year, could skirt the issue of same-sex marriage by simply saying that the party defending it 'Äď the House GOP 'Äď doesn'Äôt have the right to do so.
Jonathan Turley, a law professor at George Washington University, told CNN moments ago that this is very possible.
Congressional Republicans took up the cause after the Obama administration declined to defend the law. Turley says that judging by justices'Äô questions in yesterday'Äôs Proposition 8 hearing, some justices are "worried about handing down a major ruling'ÄĚ on same-sex marriage.
'ÄúToday'Äôs case is going to be another example of that. They have an out. They can reject this case on standing, which is basically saying that one of the parties doesn'Äôt have the right to be here in court. And there are significant standing problems here, and it is right there for any justice to take as an exit,'ÄĚ Turley said.
'Äú'Ķ For justices that are already a little bit squeamish about this issue, they can easily take this exit and say 'Äėyou, members of Congress, cannot speak for the nation.'Äô'ÄĚ
[Updated at 11:11 a.m.] Well, here's one way to look at it. CNN's Shannon Travis found this controversial sign outside the courthouse.
[Updated at 11:02 a.m.] Same sex-marriage has also divided the religious community. We've seen Catholics rallying for and against it. Barrett Duke, of the The Southern Baptist Ethics & Religious Liberty Commission, just tweeted this a little while ago:
But who's on God's side of the marriage debate?
[Updated at 10:52 a.m.] Anti-gay protesters have also gathered in support of keeping DOMA in place. While some say they are concerned that same-sex marriage threatens the traditional family institution, others offered more fiery rhetoric.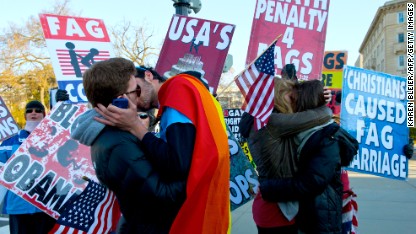 [Updated at 10:39 a.m.] The weather has warmed up a bit in Washington, and so has the crowd. Same-sex marriage supporters who want to see an end to DOMA are rallying outside the Supreme Court.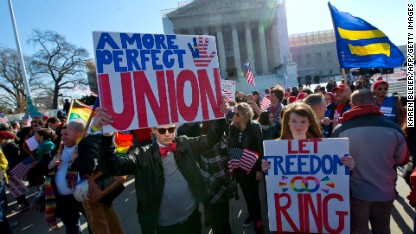 [Updated at 10:14 a.m.] The arguments should be under way by now, but the high court isn't expected to rule on DOMA until sometime this summer.
So let's talk about what's at stake here: money. If the Supreme Court overturns the federal law that defines marriage as solely between a man and a woman, some married same-sex couples will save $8,000 or more in income tax, according to a new study.
A same-sex couple with combined income of $100,000, in which one person earns $70,000 and the other makes $30,000, currently pays an extra $1,625 per year by filing separately rather than jointly, according to an analysis H&R Block conducted for CNNMoney. The calculations assume a standard deduction, no children and no tax credits.
The extra tax liability jumps to nearly $8,000 when one spouse earns all $100,000 and the other reports no income. In this case, couples filing jointly owe tax of $11,858, while a same-sex couple filing separately owes $19,585 - a 65% difference.
[Updated at 10 a.m.] If things are rolling according to plan, court is in session now and the oral arguments on DOMA will start after a few housekeeping items. We can't show you the inside of the courthouse (no cameras allowed), but here's what's going on outside. It appears to be a bit mellower than yesterday's rallies.
[Updated at 9:41 a.m.] As the justices prepare to hear a second day of oral arguments, the crowds have returned outside the steps of the U.S. Supreme Court. The sun is out, the temperatures are down - but the flags are up.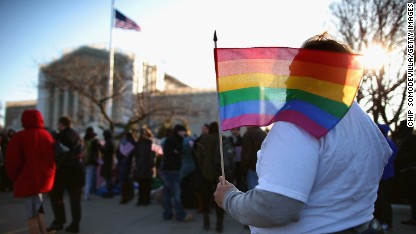 Some protesters had parked themselves, braving near freezing temperatures at dawn, to secure a good seat.
Edith Windsor, the 83-year-old plaintiff in the DOMA case, greeted protesters earlier in the morning on her way into the courthouse.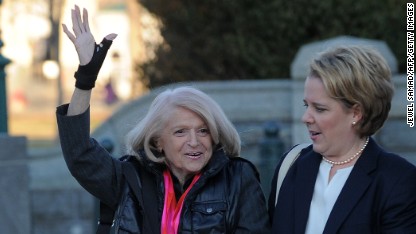 [Updated at 9:15 a.m.] Less than an hour to go before oral arguments start, but same-sex marriage is gaining steam on social media. As of 9 a.m. #DOMA and #SCOTUS were among the top five U.S. topics trending on Twitter - not bad for #humpday.
Supporters of "traditional" marriage – between one man and onw woman – are also making their voices heard. The Catholic News Service just tweeted a video of a "march for marriage" from yesterday.
[Updated at 8:34 a.m.] Today's drill is similar to yesterday's - arguments to start a little after 10 a.m. ET, and no cameras. But lawyers arguing before the court will get one hour and 50 minutes. Hey, that's almost an hour more than what Proposition 8 got.
In addition to Senior Legal Analyst Jeffrey Toobin, Correspondent Joe Johns and Bill Mears will be inside the courthouse to bring us the latest.
To make the best sense of yesterday's hearing, dive into this "5 things we learned" from our Supreme Court producer Bill Mears. It's got the audio of key parts of the hearings so you can hear Justice Scalia for example while reading Mears' analysis.
[Posted at 8:25a.m.] To understand the arguments around DOMA, get to know Edith Windsor - the woman at the heart of the case. "Edie," as she's well known, spent 42 years of her life with Thea Clara Spyer.
But even after they married in 2007 in Toronto, four decades into their courtship, the two women were not "like most couples" in the eyes of the state of New York, where they lived, nor in the eyes of the U.S. government, which under the Defense of Marriage Act mandates that a spouse, as legally defined, must be a person of the opposite sex.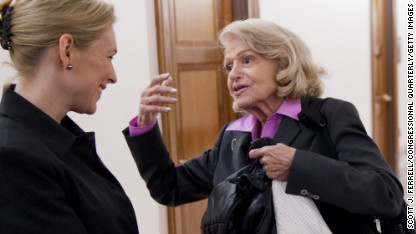 In 2009, a month after Spyer died, Windsor was slapped with a massive bill for inheritance taxes - $363,053 more than was warranted, she later claimed in court - because Spyer was, in legal terms, just a friend. She would ultimately argue in court that her relationship with Spyer should not be considered any different than a heterosexual couple when it came to rights, taxes and other issues.
In October, Windsor, now 83, got an answer in the form of a ruling opinion from the 2nd U.S. Circuit Court of Appeals. That court found, in her favor, that the Defense of Marriage Act violates the Constitution's equal protection clause and thus she shouldn't have had to pay an inheritance tax after her partner's death. This follows a similar ruling, in May, from another federal appeals court in Boston.
The Obama administration isn't challenging the ruling - the president has said he supports same-sex marriage. Lawyers representing House Republicans are taking up the case, since both Windsor and the administration are taking the same legal position.
[Updated at 7:58 a.m.]Just a few minutes until the doors open to the Supreme Court. While we wait, weigh your state on CNN's LGBT rights calculator.
And, remember the red equal sign all over Twitter and Facebook yesterday? You'll probably see more of it today.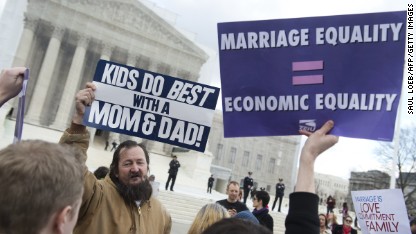 [Updated at 7:22 a.m.] While yesterday dealt with big questions (Who should be allowed to marry? What is the impact of same-sex marriage on children?), today's arguments will look at a relatively clearer issue - discrimination, according to CNN's senior legal analyst Jeffrey Toobin.
The arguments over DOMA will focus on the nine states plus the District of Columbia, which allow same-sex marriage. Will they treat same-sex couple the same as straight couples?
"It's a case about money, benefits and who can be denied those benefits," Toobin said.
https://twitter.com/StartingPtCNN/status/316872651274584064
[Posted at 7:06 a.m.] We're gearing up this morning for round two of oral arguments at the Supreme Court over same-sex marriage.
Yesterday, the justices heard both sides of California's Proposition 8. The overriding legal question in that case is whether the Constitution's guarantee of equal protection under the law prevents states from defining marriage as that state has done. Some 80 minutes of arguments left no clear picture of how things might go - but here's what we learned from it.
Today's arguments deal with the 1996 Defense of Marriage Act, which like Proposition 8, defines marriage as only between a man and a woman. The federal law means federal tax, Social Security, pension, and bankruptcy benefits, and family medical leave protections do not apply to gay and lesbian couples.
Arguments are scheduled to start at 10 a.m. ET. We'll have all the latest developments here.
In the meantime, you can catch up on the details.