Four-story building that was being demolished apparently fell onto Salvation Army store in central Philadelphia at about 10:45 a.m. Wednesday, city Fire Commissioner Lloyd Ayers says
14 helped from rubble, 13 taken to hospitals, officials say; firefighters determining whether others trapped
Witness Jordan McLaughlin tells CNN affiliate KYW that a building "collapsed the wrong way and landed on a thrift shop" that had people inside.
OSHA: This was accident at demolition site (2140 Market St.)
Check back here for updates; full story here; Are you there? Send to iReport
[Posted at 2:51 p.m.] A woman has died as a result of Wednesday's building collapse in Philadelphia, two sources close to the investigation told CNN's Don Lemon.
No death was mentioned at the news conference that wrapped up near the site minutes ago.
[Posted at 2:43 p.m.] Fourteen people have been rescued from the site, 13 of whom have been hospitalized, officials told reporters moments ago.
Mayor Michael Nutter said that a search-and-rescue operation continues.
"Keep in mind we did not know, and we do not know, how many people were actually in the thrift store this morning when the wall collapsed this morning," and that's why the search continues, Nutter said.
[Posted at 2:16 p.m.] A Salvation Army official had this to say about the collapse that damaged the Salvation Army store:
"At this time, we are gathering information about the details of the building collapse at 22nd and Market Street in Philadelphia today. Our No. 1 concern is for the safety of our customers and the employees who were involved," Donald Lance, divisional Leader of the Salvation Army's Eastern Pennsylvania and Delaware Division, told CNN's Natalie Apsell.
"We are coordinating with the police and fire Department, the Office of Emergency Management and local authorities," Lance continued. "Also, we have sent our own disaster response team to the site to serve survivors and first responders. We ask for the public to pray for those involved."
[Posted at 2:13 p.m.] Mike Adam, who lives across the street from the site, says he took this picture from his apartment: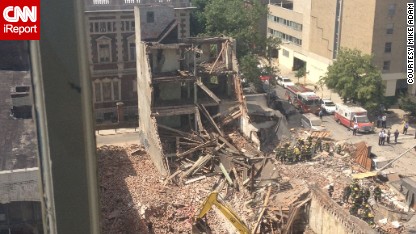 Adam told CNN's Brooke Baldwin that he and his fiancee were in their apartment when they heard sirens. He looked out a window and saw people running. Looking out a different window, he saw smoke and rubble.
"A block over, there's a fire department, so they were on the scene almost immediately," Adam said.
[Posted at 2:01 p.m.] While firefighters have been digging through the rubble, people from a nearby market have "graciously supplied (them) and officers with fresh apples and bananas," CNN iReporter Josh Rozell says.
[Posted at 1:30 p.m.] Philadelphia firefighters have just made another rescue, the city's mayor said.
A person who was buried in the rubble "for about two hours" was rescued by city fire personnel, Philadelphia Mayor Michael Nutter told CNN's Don Lemon minutes ago.
That person has been taken to a hospital with minor injuries, and it bring to 13 the number of people taken to hospitals, Nutter said.
Nutter said he didn't know how many other people might be trapped, noting that officials don't yet know how many people were inside the store.
[Posted at 1:21 p.m.] To give you an idea of where this happened: The site is in a heavily traveled area of downtown Philadelphia near the Mutter Museum, a popular tourist destination that houses medical oddities.
The museum was closed Wednesday due to the collapse, it said on Twitter.