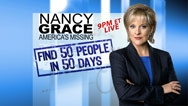 Editor's note: Nancy Grace's new show on HLN, "Nancy Grace: America's Missing," is dedicated to finding 50 people in 50 days. As part of the effort, which relies heavily on audience participation, CNN.com's news blog This Just In will feature the stories of the missing.
This is the 32nd case, and it will be shown Tuesday night on HLN.
It's been more than two years since 5-year-old Haleigh Cummings was last seen alive in Satsuma, Florida. Since then, her family has gone through a marriage, a divorce and drug arrests, but there is still no sign of the little girl who was last seen by her babysitter-turned-stepmother, Misty Croslin, on February 9, 2009.
At the time Haleigh went missing, Croslin was living in the family's mobile home with her then-boyfriend, Ronald Cummings, Haleigh and her 4-year-old brother. Croslin told police that Haleigh was snatched from the trailer in middle of the night while she slept.
Investigators have said physical evidence contradicts Croslin's account of the events that night but have stopped short of charging her in the girl's death. Today, Croslin is in prison after being sentenced to 25 years on drug-related charges involving the trafficking of prescription narcotics, including oxycodone and hydrocodone. She continues to maintain her innocence. Haleigh's father will serve 15 years in prison and was fined $250,000 for selling prescription drugs. The two married after Haleigh's disappearance and divorced soon afterward.
Meanwhile, police continue to search for clues in Haleigh's disappearance.