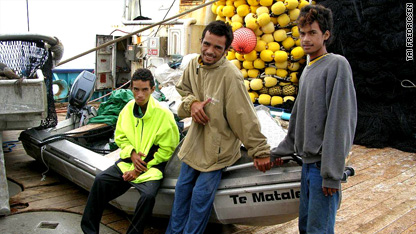 For three boys from the Tokelau Islands the word miracle has a whole new meaning.
After going missing following a sporting event in October, and after several unsuccessful searches by New Zealand's air force, they were presumed dead. About 500 people on the island held a memorial service for them.
But for Samuel Perez and Filo Filo, both 15, and Edward Nasau, 14, this story ended in the most unbelievable way - being rescued by a tuna ship near Fiji after 50 days at sea.
Since October 5, the three survived with limited supply. They shared a single raw seagull and drank a tiny bit of rainwater. They eventually resorted to drinking small amounts of sea water, Australia's Herald Sun reported.
On Wednesday afternoon, their saga finally came to an end when the tuna boat, the San Nikunau, saw their small aluminum boat floating in the middle of open waters. They were and 750 nautical miles (1,300 km) away from where they went missing.
'We got to them in a miracle," the first mate, Tai Fredricsen, told the Sydney Morning Herald.
"They were in reasonably good spirits for how long they'd been adrift," Fredricsen told the Herald Sun. "They were very badly sunburnt. They were in the open during the day up in the tropics there. But really they just needed basic first aid."