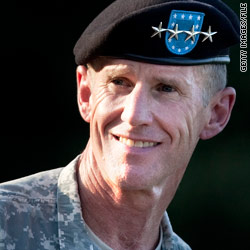 STANLEY McCHRYSTAL
The ousted commander of U.S. troops in Afghanistan appeared before an audience at the Daily Beast's Innovation Summit on Friday in New Orleans.
The former Army general addressed a range of issues ranging from Wikileaks and civilian deaths in war to Afghanistan and the U.S. relationship with Afghan President Hamid Karzai.
"I think it's sad," McChrystal said regarding Wikileaks, calling the website's release of classified documents illegal and a "threat to comrades."
"I think that a level of responsibility towards our people needs to be balanced with any argument for a need or right to know. "
McChrystal also spoke about the Afghan people's perception of the U.S. - saying that despite technological strength, the U.S. appeared  "cavalier" in the way it carried out operations that led to civilians being killed.
"It wasn't something that we could simply say, 'War's difficult, people get killed, and you have to accept that ,' " he said.  "... I don't think we were being cavalier, but their perception was that way."
ALLEN IVERSON
With no team to call home stateside, hoopster Allen Iverson is taking his services overseas, according to published reports.
Sources have told Yahoo! Sports that the onetime all-star signed a two-year, $4 million contract with Besiktas in the Turkish basketball league. He could join the team, one of Turkey's best, before its November 6 game against Bornova, Yahoo! reported.
Seref Yalcin, an executive board member for the team, told the Turkish daily Hurriyet that he planned to have a final face-to-face meeting with Iverson on Friday and that he expected the 35-year-old point guard to arrive in Istanbul in 10 days.
Iverson, also known as "A.I." or "The Answer," spent 14 years in the NBA and racked up an impressive resume. In addition to being named an all-star 10 times, Iverson averaged 27.1 points a game, one of the top averages in NBA history. He also was co-captain and leading scorer for the 2004 U.S. Olympic team.
Iverson's career has been riddled with controversial moments and observers have long said his inability to find work in the NBA may have as much to do with his personality as it does with his age or performance on the court.