[Updated at 4:55 p.m. ET] Famed baseball pitcher Roger Clemens was found not guilty Monday of lying to Congress during an investigation of steroid use among major league players.
The case against Clemens involved one count of obstruction of Congress, three counts of making false statements and two counts of perjury. He was found not guilty on all counts.
"Mr. Clemens, you're free to go," Judge Reggie Walton said after the verdicts were read in U.S. District Court in Washington.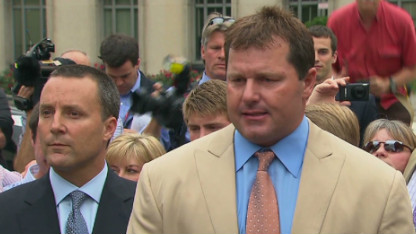 Clemens on verdict: Time to be thankful
Roger Clemens thanks all those who defended him after a jury found him 'not guilty' of federal perjury charges.
Clemens wiped away tears as he hugged his sons in the courtroom following the verdicts.
He was not charged with illicit use of performance-enhancing drugs, but his denial of such use was part of the case against him.
Arguments in the trial concluded last week. Federal prosecutor Courtney Saleski, in closing arguments Tuesday, told the jury Clemens "wanted to protect his brand, he wanted to protect his livelihood," in denying the use of steroids during a 2008 investigation by the U.S. House of Representatives into the problem.
The Clemens defense team disputed whether the government has made its case, telling the jury all the evidence came through a former personal trainer, Brian McNamee, who the defense team said had incentive to lie.
FULL STORY