Editor's Note: Atlantis' journey to the International Space Station will be NASA's 135th and final mission in the space shuttle program, which began 30 years ago. Tune in to CNN's live coverage of the launch Friday, on CNN.com/Live and the CNN mobile apps. As part of our coverage our teams are the ground are sharing what they are seeing and hearing during this historic day.
[Updated at 1:36 p.m.] Astronaut Julie Payette, a Canadian flight engineer who flew two shuttle missions told CNN: "I feel good about it being a grand finale for an extraordinarily successful program."
"This program has inspired so many people," she said. "It is very inspirational when we do things on the edge and this is one of the edges that's hard to reach."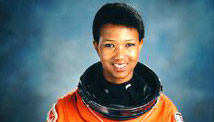 [Updated at 12:37 p.m.] Dr. Mae Jemison, the first African-American in Space, said the launch today was a "really bittersweet feeling."

"[It's like] you've had a good friend or a car that did a really good job, but now its time to move on," she said.
[Updated at 12:20 p.m.] @NASA tweets: "The STS-135 post-launch news conference now will be held at 1 p.m. EDT."
[Updated at 12:06 p.m.] Linda Johnston from Palestine, Texas wiped tears away from her eyes as the shuttle blasted into space. This was her first launch and the moment was overwhelming. She rose from her wheelchair and looked by the brim of her straw hat as her husband and grandson stood by her side.
She said the shuttle symbolizes patriotism. Why its ending, she doesn't know - she's just happy that she and the three generations of her family got to see this one in the flesh.
Another family from Warren, Michigan came to see the last launch.
"It was something I could never see again," one woman told CNN's Brooke Baldwin as she cried. "But I've never seen it and I wanted to."
5-year-old Parker Mills, who was with the rest of his family explained, "It was ginormous!  It just went up into the clouds."
[Updated at 11:57 a.m.] @NASA tweets: Watch Administrator Bolden's video blog about the final shuttle launch and what's next for NASA:  http://t.co/wDqXVRK
[Updated at 11:55 a.m.] Astronaut Leroy Chiao is here to do an interview with CNN International. He's got a"celebration" cigar lit and in hand and said the final launch was "fantastic."
Chiao was the commander of Expedition 10 and lived aboard the International Space from October 2004 to April 2005 and has been aboard three shuttle flights.
[Updated at 11:41 a.m.] "When we saw the bright glare of the shuttle and the chants of U.S.A., U.S.A. started going up, it was hard not to cry, frankly," CNN's Carol Costello says.
[Updated at 11:33 a.m.] Space Shuttle Atlantis has achieved main engine cutoff.
[Updated at 11:31 a.m.] The solid rocket boosters continue to travel upward another 150,000 feet after they are ejected, former astronaut Cady Coleman explains.
[Updated at 11:29 a.m.] A half a ton of fuel per second is being drained from Atlantis' main fuel tank. Engines performing perfectly, NASA says.
[Updated at 11:28 a.m.] "Atlantis flexing its muscles one final time," flight commentator says.
[Updated at 11:27 a.m.] Atlantis is in the middle of its eight-minute ride into orbit.
[Updated at 11:26 a.m.] Space Shuttle Atlantis has lifted off, marking NASA's final mission in the space shuttle program.
"The space shuttle spreads its wings one final time for the start of a sentimental journey into history," launch control said.