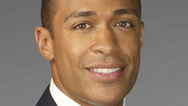 Editor's note: CNN's T.J. Holmes will be traveling through four states on the CNN Election Express bus this week, talking with voters about their thoughts on the economy and the upcoming midterm elections.
The following is a post he filed from Pittsburgh, Pennsylvania.
"Always vote against the incumbent."
That's the voting philosophy of Anthony Nicoletto, a dairy farmer we met in western Pennsylvania.
He says he always votes against the incumbent because you should "give someone else a chance to be corrupt" and steal money.
Here in western Pennsylvania, everyone seems to be in agreement: they are sick of Washington, DC.
Nicoletto has been a dairy farmer his whole life, but now, he says each year could be his last year in the business. His cost of doing business continues to go up, but the cost of milk doesn't go up at the same pace. He can't turn a profit. So, a successful year for him now is when he loses a little bit of money instead of a lot.
And, Nicoletto and his wife don't have a lot of (or any) confidence in Washington. Listen to what they told us.